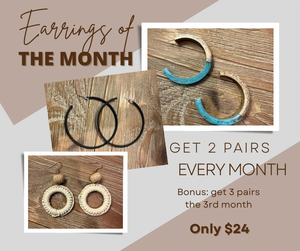 Customers love our cute, stylish earrings so let us send you 2 trending pairs every single month.  Be totally surprised & happy when you receive your package in the mail each month to discover what's inside (get a free pair on month 3). This makes a fabulous gift for the gal who loves a little bling.  
The style - all earrings are unique, trending, medium sized & go well with neutral outfits. 
Ships out each month 
Cancel anytime you wish and shipping is always FREE. 
Bonus - once you've hit 3 months, we will send you an extra pair on us, just to say thank you!
Thank you for supporting our small business, we appreciate you!